Port Erin & South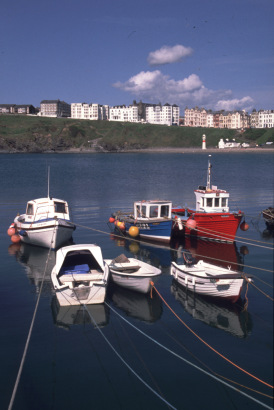 Port Erin has a reputation for being a friendly, happy, healthy and safe resort. It nestles between the Southern hills of the Isle of Man, and attracts visitors who are seeking a special place to relax and unwind. Unlike the busy finance capital of Douglas, Port Erin boasts free and easy parking; it is a family friendly resort with a gentle sloping beach of firm golden sand. The village overlooks a blue lagoon-like bay dominated by the rugged and majestic 'broad headland' known in Manx as 'Bradda'.
Port Erin is the ideal base from which to explore the treasures of a magical Island kingdom rich in history. It takes just two minutes to drive into beautiful Manx countryside, and twenty minutes to reach the bright lights of Douglas. For a more leisurely mode of transport take a ride on the Victorian Steam Railway which begins at Port Erin Station. A modern Railway Museum next door explains the history of the line. Cliff top walks take you to Fleshwick Bay or the picturesque Sound overlooking the Calf of Man near the crofters village of Cregneash.
During the Summer months mini-cruises set off from the harbour for the Calf of Man nature reserve, either to land or go round the Island. Watch out for seals sunbathing on the rocks and plentiful bird-life along the coast.

Port Erin and its folk retain old-fashioned values and you can be sure of a warm welcome. A haven of peace and tranquillity, Port Erin is the perfect setting for a memorable short break or longer holiday.
More Photos